12 Feb

A Blue Library

"A house that has a library in it has a soul" – Plato
I've been drooling over this gorgeous blue library ever since I saw it in the June 2013 issue of House Beautiful. It is so inviting and cozy..perfect for these cold winter days! The walls and woodwork are painted a deep saturated color- Farrow & Ball's Hague Blue and the ceiling is tented with a Michael S. Smith Indian block fabric, Jasper. How amazing is that!?! The tufted sofa is upholstered in a blue Schumacher silk velvet… if I was to curl up on that with a good book, I don't think I'd ever want to leave! The pair of gold & mirrored tables and wall sconces provide sparkle, while the lighter area rug and roman shade keep the room from feeling too heavy.
Lately, more blue libraries have been crossing my path, and I love them all!
Elle Décor
If you can't pull the trigger on those dark, saturated blues, how about one of these lighter, muted hues?
Architectural Digest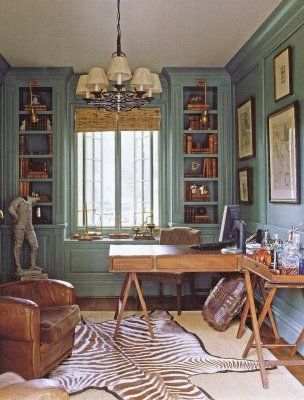 I love books…reading them and holding them and turning pages (You won't find me on a Kindle). Our house has bookcases full of them, and you'll find an ever-growing stack of books next to my bed. They also find resting places in baskets, on coffee tables and stools, and on the piano.
This is SO me…
Someday I would love to have a library…and most likely, it will be a shade of blue.
As always, feel free to leave a comment or ask questions in the comments section below.
Need help creating a home you love?
Contact me
about our design services.